When it comes to instruction, National Bartender's School is a Mixology Institution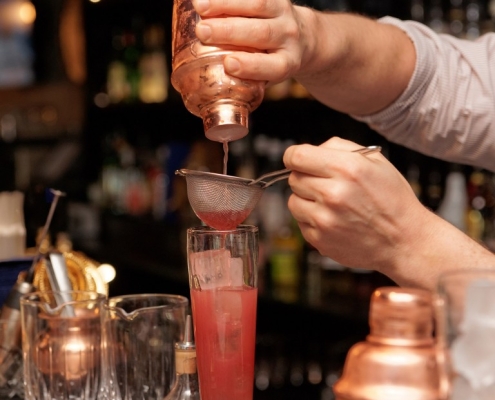 After meeting with multiple owners of some of the top bars, clubs, and event companies in the nation, University of Mixology has come up with 8 mastery courses consisting of high level craft, customer service, liquor, wine and beer knowledge. Instruction is hands on, with actual bar stations to allow proper techniques and preparation with a certified instructor.
Our curriculum was recently updated in April of 2016 to ensure you're learning how to make what is being ordered TODAY.
What you will learn at NB School and Staffing offers:
Bar basics 101, vocabulary, bar set-up and break down, bartending fundamentals
Mastery of the TOP 99 cocktails that are most commonly ordered in Southern California
Flair class on flipping bottles, and creating a fun aesthetic environment
A REAL craft class with REAL liquor where you get to taste and experience real CRAFT cocktails
Classes taught outside the school where you'll learn how to properly use a keg, a POS System
Internships available each week at Edwin Mills, and Red Balls Rock N Roll Pizza Beer and Wine class and tasting, learning the nuances of craft beers, and classic European and Californian wines.
Our new , updated, and relevant curriculum is why over two dozen top bar owners and managers hire directly from National Bartender School and Staffing.